LASY MAXI
3 years and up
Developed in close cooperation with teachers
Designed for strength and durability
Non-toxic ABS plastic material - washable and safe!
Smooth edges - no tools required for safe play!
Basic sets contain many pieces for learning
Ideal for group activities
Develops social and critical thinking skills!
Multi-directional connection system guarantees hours of frustration free fun!
Top rating from international toy testing councils - highly recommended!
LASY Maxi set is ideal for use in daycare centers, kindergartens, primary classrooms and home schooling environments. The basic construction kit (#4002) contains all necessary elements in Maxi size (H-bricks, wheels and axles).
Add-on sets allow children to become more creative by including in their projects, people figures, round bricks, A-bricks and plates. These sets complement the basic set by creating a more universal construction system, as part of a system, all components fit together and allow greater creative play value!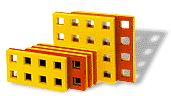 List of products
LASY MAXI
LASY MAXIMIDI
LASY FORMY