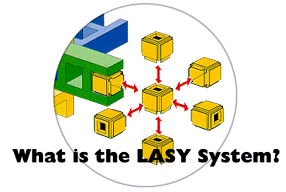 Why choose construction set?

During their development phase, children are constantly seeking play opportunities that involve creating design. Ready-made toys do not provide such creative possibilities. For this reason, construction building set are the only serious and interesting alternative.

Initially, infants and toddlers manipulate large colorful pieces (LASY Baby and Maxi) and only later, as the child's hand and eye coordination develops do they require smaller, more specialized blocks (Midi, Clic, Mini and Tecno)

Why LASY Building Sets?

The LASY system is design to offer maximum creativity ... no component is designed for a single purpose. LASY building blocs can always be used for multiple purposes thus encouraging creativeness during play.

Each LASY set allows the creation of an array of magnificent models. The LASY building blocs hace been successful for more than 20 years in the kidergartens. The pieces are made from the highest quality, environmentally friendly plastics.

Why LASY universal building sets?

Today's young inventors will soon be tomorrow's engineers and managers.They will continue to discover, seek new solutions and design ... problem solving and creative design is a life long required skill!

It is amazing how the creative nature of every child is stimulated and developed by LASY. Watch children build with LASY. In competitions, this has been proven time and time again.

The LASY Value Guarantee

LASY is suitable for all ages. Because LASY products are part of a collective system, all future products are guaranteed to be compatible with current products. This guarantee assures that LASY products will always appreciate in value! Children from all parts of the world play with LASY every day - from Tokyo, Bangkok, Sydney, Cape town, Djakarta, New York, Toronto, Lima, London, Paris, Vienna, Berlin or Bern!